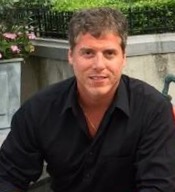 Dr. Tim Peristeridis was born and raised in Sault Ste. Marie, Canada and graduated from the University of Waterloo, with an Honours Science and Business degree in 1993. He then continued his studies at Northwestern College of Chiropractic where he graduated with his Doctor of Chiropractic degree in 1997.
After completing his residency in Kalamazoo in 1997, he decided this was where he was going to practice. In 1998, he joined the practice of Dr. Dean Bender, who he considered his mentor. Dr. Peristeridis married, and started a family and today is the proud father of four sons.
Dr. Peristeridis practices with techniques that can be utilized on different age groups, a wide array of conditions, post surgical patients, patients with arthritis and other spinal related diseases, so that each and every patient receives a treatment plan specifically tailored to their own individual needs. He also believes in coordinating care with primary care physicians, specialists, physical therapists, and alternative health care practitioners when warranted. In his spare time, Dr. Tim enjoys exercising, listening to music, playing the Bouzouki, the outdoors, and spending time with his family.
If you're looking for a chiropractor in Kalamazoo, give Dr. Peristeridis a call at (269) 381-0737